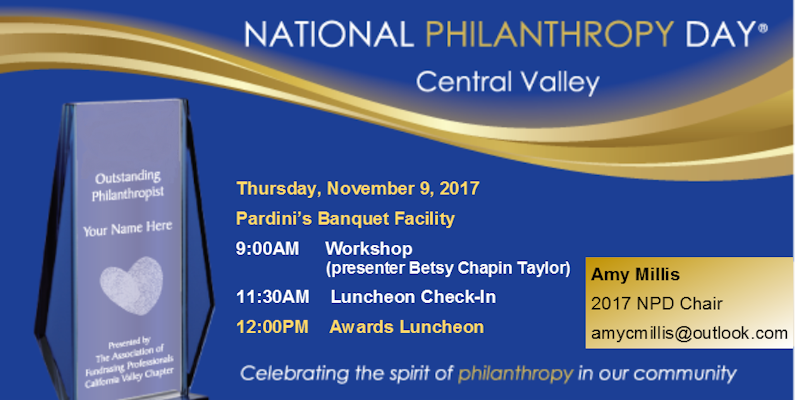 DON'T MISS OUT! CLICK HERE TO REGISTER
President's Message
Serving as your 2017 President of the California Valley Chapter of the Association of Fundraising Professionals (AFP) is an honor and a privilege. As fundraisers we are charged with making our communities a better place to live for our families, friends, neighbors and citizens. It's a tall order, but I have found that those who choose this profession are up to the challenge!
AFP is here to help develop professionals by providing the necessary tools and resources to build your career and expand your knowledge. Our goal is to promote philanthropy through programs and networking opportunities. Monthly meetings offer a wide variety of subjects, many of which deliver excellent ideas and platforms to improve and enhance your current fundraising strategies. You will meet professionals that are both new to the field of philanthropy or have served over 30 years fundraising for non-profits. Both ends of the spectrum will provide insight and growth opportunities. Continue Reading →
Upcoming Events
November 9, 2017 - National Philanthropy Day
The Next Generation of American Giving
The Charitable Habits of Generations Y, X, Baby Boomers and Matures
2015 Nonprofit Communications Trends Report
In this fifth annual edition of the Nonprofit Communications Trends Report, we answer these questions for you:
What's the norm for nonprofit communications? We share what's typical in nonprofit communications today.
Where are the points of conflict in nonprofit communications? We point out where communicators, fundraisers, and executive directors disagree, as well as other statistical differences in the data – quiz style.
What's the portrait of a typical nonprofit communications director? We share a little more about the life and times of today's nonprofit communications directors.
How are people really feeling about the coming year? We share what has you most excited and most scared about 2015.
AFP Quick Poll
indicates a required field